How not to replace thermal paste on a PS4
Tags:
Published: 09 May 2020 18:17

Due to the "stay at home" directive that we're all under, I've been tackling projects that have piled up over time. One of these is fixing the Playstation 4. Every time it runs something more than the menu it sounds like it's taking off. The symptoms led me to suspect a cooling problem: either the fan was full of dust and not doing its job or the thermal paste wasn't effective anymore.

I chose the PJ masks mat so that I wouldn't be working straight on the glass, and because my 3 year old son was watching. One of the things I think is important that I'm trying to teach him is that things can be taken apart and fixed, and even made better.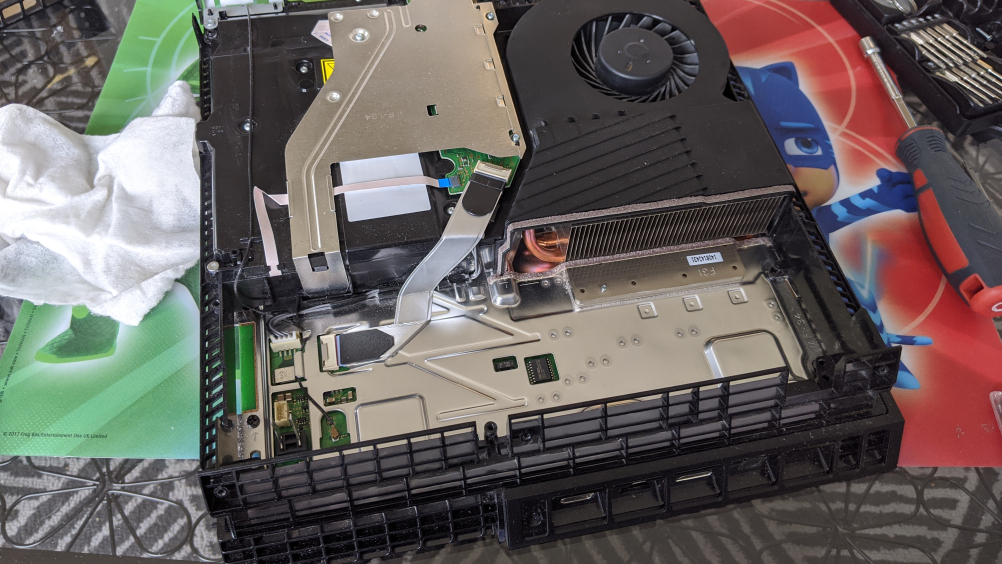 There was a bit of dust in there but nothing that should have affected the cooling ability. So I had to take the whole thing apart and replace the thermal paste. I'm lucky I had some lying around - I didn't have any compressed air to blow out the dust so I had to improvise with a small empty travel condiment bottle acting like a blower.
In the middle of taking it apart, you have to remove the power supply cable. I tried to do this with the pliers shown in the next picture but they slipped and sheared three out of the four cables (two completely, and one was barely holding on). I found a replacement on eBay and ordered it, but the PS4 didn't work for weeks while the cable was being shipped from Germany.
Breaking your PS4 when you're stuck at home isn't ideal :)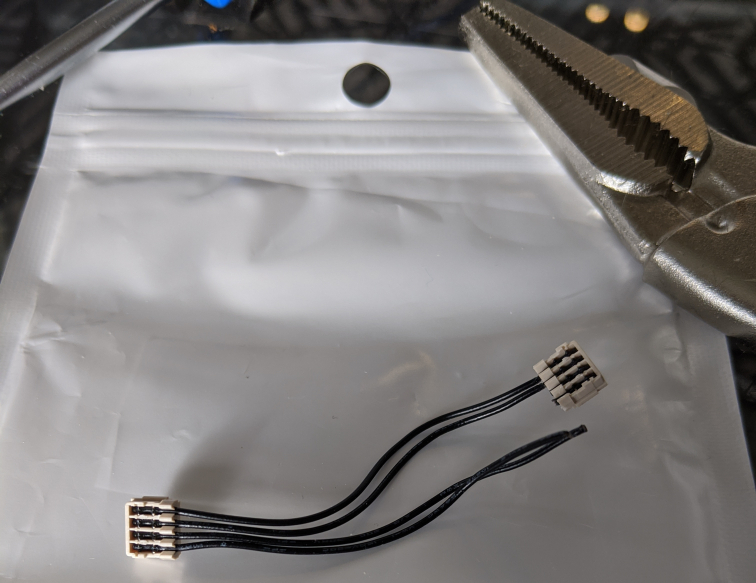 When I finally got to the processor, I saw that the thermal paste had drained and/or leaked out around the edges and was not providing an adequate connection to the heat sink: there was barely anything left connecting the heat sink and the processor.
After cleaning most of the previous thermal paste, I applied a new blob, put everything back together, and (after waiting for the power supply cable) everything works! The PS4 no longer sounds like a loud drone taking off every time it runs anything.
For reference, PS4 Too Loud - How to Replace Your PS4 Thermal Paste is the video I followed. At about 5:22, the power supply cable is shown, and the person in the video simply pulls it out. It wasn't budging for me but I'll try a little harder next time this needs to be done :)